The Pet Adoption Kiosk is an Adobe AIR application that can be installed on your laptop or desktop (Windows or MAC). The Kiosk downloads a copy of your adoptable pet information, including pictures. The information and pictures are then available on your laptop for people who are interested.
For instance, your organization might be hosting a booth at an animal festival, and your adoptable animals are not in attendance. Instead, you've been invited to bring literature and items for sale. You can set up a laptop, start the Kiosk, and show visitors to your booth your adoptable animals.
Where do I find it?
To use the Pet Adoption Kiosk, go to Features > Pet Adoption Kiosk.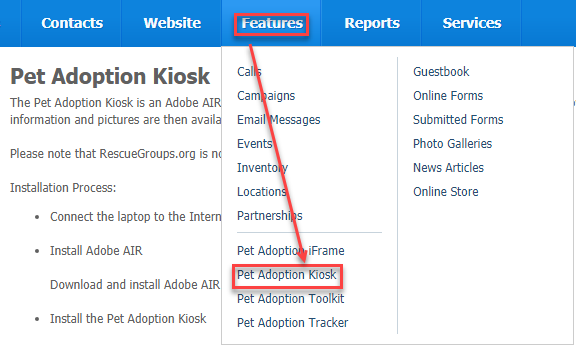 The Pet Adoption Kiosk is available to users with Animal Add or Animal Admin roles
Installing the Kiosk on your computer
Follow these instructions to install the Kiosk on your computer before the event:
Obtain an API Key from RescueGroups.org.
Connect your computer to the Internet.
Download and install Adobe AIR here:
https://airsdk.harman.com/runtime
Run the application.
Open the Kiosk application by going to Features > Pet Adoption Kiosk.
Log in using an API Key and your organization's site code. This information will be available on the Pet Adoption Kiosk page of your website once you've obtained an API Key.
Click Download Adoptable Pets.
Using the Kiosk
At the event, start your laptop, then start the Kiosk application and click View Adoptable Pet List. When done, simply close the application.
NOTE:
RescueGroups.org is not currently enhancing this application.
Have a question about this topic?