The first step in becoming a beta tester for the RescueGroups.org Android Apps is to join the RescueGroups.org Android App Beta Google Group.
Where do I find it?
Navigate to https://groups.google.com/a/rescuegroups.org/forum/#!forum/androidappbeta and click the link Apply for membership.

Wait to receive the confirmation that you have been added to the Google group.
Signing up for beta testing
Once you receive your confirmation that you have been added to the Google group, sign-up for the beta testing here:
https://play.google.com/apps/testing/org.rescuegroups.manage
When you access the link, you should see a button to Become a Tester.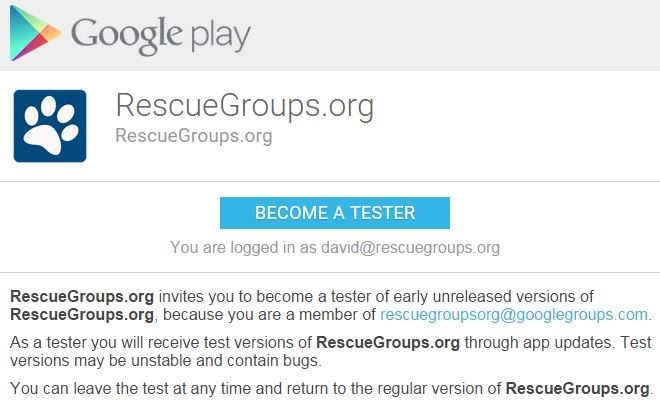 If you see a message like Sorry - nothing to see here you may not be logged in with the Google account that was given access to the Android App Beta group above, or you haven't waited long enough for us to add you to the group. There are issues Google and this process, so it's not always consistent. If you continue to have problems, it may be easiest to start your web browser in Incognito or Private Browsing mode, log in to your Google account, and go to the App URL above.
Getting the test version
Once you click the Become a Tester button you will see a screen like this: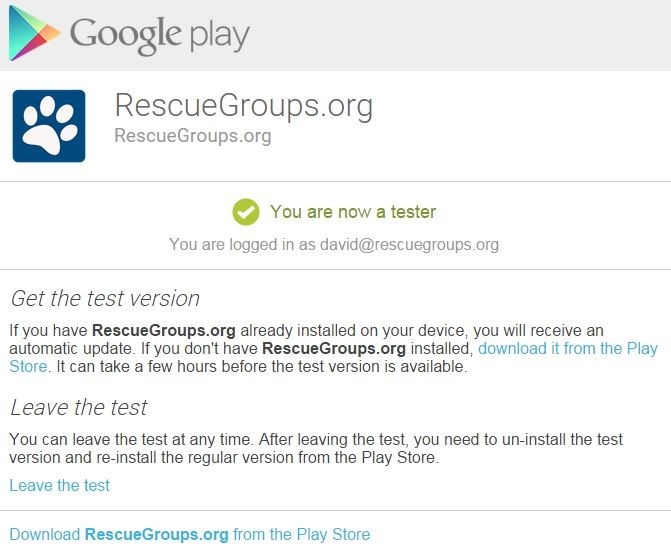 Click the Download RescueGroups.org from the Play Store to download and install the app on your device.
---
Have a question about this topic?