You can change the contact information on your domain names at any time. In fact, 

organizations that have a domain registered with RescueGroups.org are required to confirm their contact information on a regular basis. You will receive a regular email notification that tells you when to update your domain contact information. In doing so, you may notice that the contact information is out of date and needs to be changed. Follow the directions below to change the contact information for your domain.
Where do I find it?
You can update or confirm your domain contact information from the Domains control panel. Go to Services > Account Administration > Your Services > My Domains (Under the Domains Menu)> Edit Contact Information.


What to do when you receive a notice about confirming your domain name contact information
When you receive a notice asking you to confirm or update your domain name contact information, the letter will look like the one below.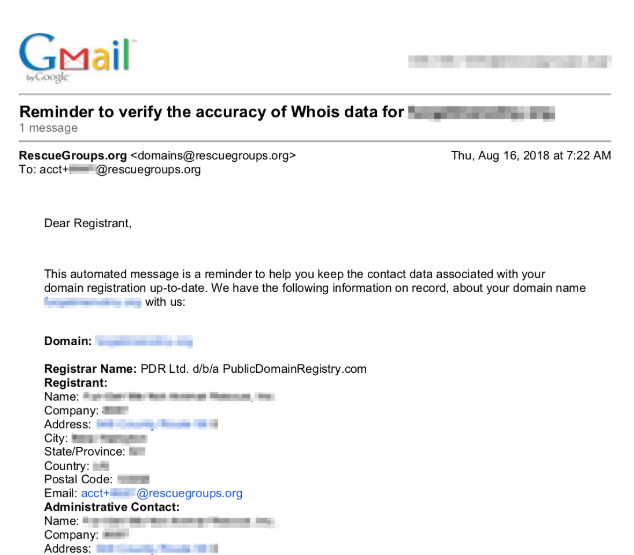 To confirm or update the contact information for your domain:
Click the Your Services button from the Account Administration button in the Services tab of your account dashboard. A new screen opens. 
Click My Domains under the Domains menu.  



Select Edit Contact Information under the menu for the domain name that you need to update.  
Make sure the Specify custom information below is selected, and then update the information if necessary.
Click Save Changes.
Have a question about this topic?