We're sorry to hear that you're transferring your domain away. Remember, you don't have to transfer a domain name away if you want to use a different website provider. All you have to do is to update your DNS entries. We can help you.
A domain name transfer can take five to seven days to complete. Do not initiate a transfer if your domain name has expired or is going to expire in less than a week. You cannot make any changes to the domain name during the transfer process (ex., changing DNS servers, DNS entries, forwarding, etc). That limitation is per ICANN policy, not RescueGroups.org.
If you have any questions or concerns about your domain name or the domain name transfer process please contact RescueGroups.org Support before initiating a domain name transfer.
Where do I find it?
You can find the information about domain names by going to Services and clicking any of the links under Domains or by clicking Domains and selecting a topic from the menu.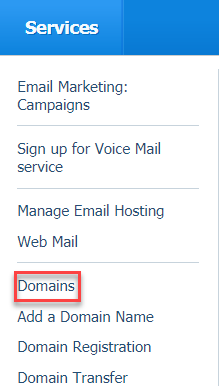 On this page:
Related pages:
Transferring a domain name away from RescueGroups.org
To transfer a domain name away from RescueGroups.org and to another registrar, you'll need to prepare your domain. Follow these instructions:
Log into your RescueGroups.org account.
Go to Services > Domains.
Click Manage Domain Registrations. This should send you to the My Domains page shown below.
(Also found under the Domains > My Domains option in the menu bar)



For the domain name you are transferring away, click the arrow next to the wrench and select Manage Domain from the dropdown menu.



On the next page, you should see the Manage Domain menu on the left.

From this menu, you'll need to complete the following three steps to prepare your domain for transfer:

Click the Registrar Lock tab and click the Disable Registrar Lock button. This unlocks the domain name so it can transfer.
Click the Addons tab and click Disabled under ID Protection (privacy protection).
Click Get EPP Code. The EPP Code is an authorization code your new registrar will need.

Contact your new registrar to initiate a domain transfer and communicate the EPP code.


You don't have to transfer a domain name away if you decide to use a different website provider. You can leave the registration with us and just update your DNS entries.
Have a question about this topic?