...
You can reset the "counter" on the forwarder by checking the correct forwarder in the list of forwarders and clicking Reset from the drop-down menu. Just as with other data lists in your account, you can select all to complete the action (delete or reset) for all forwarders.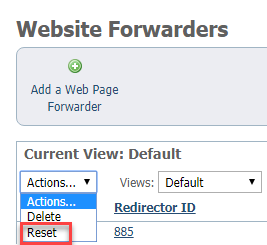 How to Add A Web page Forwarder
Using your own Domain

Source, enter the URL people will type into their browser

In this example a "friendly URL" for use on marketing materials: www.13thstcats.org/TNR

Destination, is the page you would like them to be forwarded to

In this example, the web page: www.13thstcats.org/info/display?PageID=5373

Save Forwarder
...