Your RescueGroups.org account offers you the ability to manage information about the contacts in your organization.  Who are contacts?
Donors
Corporate sponsors
Supporters
Adopters
Fosters
Volunteers
Where do I find it?
You can find the Contacts pull-down menu from the main page in your account.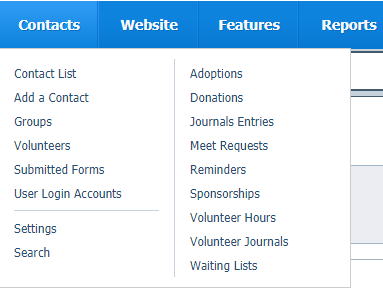 To manage the contacts for your organization, your volunteer needs both the roles of Contacts Add and Contacts Admin. For more information about roles and the permissions attached to them, see the section of the Getting started with RescueGroups.org guide, About roles and permissions.