Email marketing campaigns are customized, attractive emails that are sent to a specified group of contacts or to specific contacts for marketing purposes, such as soliciting donations, volunteers, or adoptions.  You can create these campaigns easily using our service, which allows you to customize your email with different colors, fonts, and even add a photo.
The best thing is, this service is completely free for up to 500 emails every month for as long as you'd like, as an un-timed trial.  If you love it, you can upgrade to a higher level of service at any time.
Where do I find it?
Services > Email Marketing: Campaigns.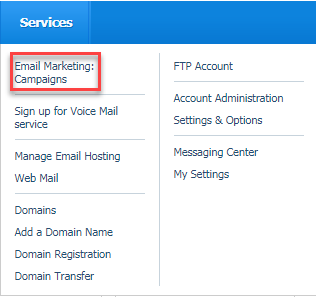 Why you'll love the Email Marketing Campaign Service
With the Email Marketing Campaign Service, you can generate professional-looking email campaigns for many purposes, including fundraising. Here are some of the features of the service:
Create a professional looking campaign to send to a select list of your contacts
Send either text or HTML campaigns, including images or tables (you do not need to know HTML)
Add contacts from your contacts list or a CSV file
Add a sign-up "widget" (sign-up box) on your website for newsletters
Change the colors of the heading and body and change text size
Add a photo or logo to your heading
Schedule the emails to be sent at a specific time - or - at intervals, such as every Valentine's Day
Advanced reports - for each campaign, find out how many messages have been forwarded, and how many people unsubscribed using the link in the email
Compliant with CANSPAM (messages include organization address and opt-out information, etc.)
NOTE: The CANSPAM act is a law that sets rules for commercial emails. 
Have a question about this topic?