Skip to end of metadata
Go to start of metadata
The Domain Name System (DNS) is like the white pages of the internet. DNS service connects users to your site.
The instructions in this User Guide chapter apply to domain names that are already registered with RescueGroups.org.  To transfer your existing domain name to RescueGroups.org see the How to transfer a domain to your account chapter.
Where do I find it?
To find the Domains section of your account, go to Services > Domains.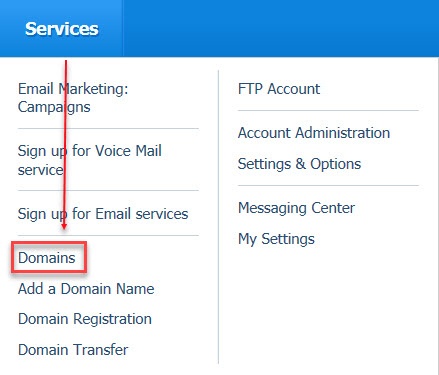 Opening the DNS Management Console
To manage your domain name's DNS records:
Log in to your account from RescueGroups.org.
Click Services > Domains.
Click Manage Domain Registrations.

Click the domain name you want to update.



Add, edit, and delete DNS records as necessary.
How to update your domain's Mail Exchanger (MX) record
MX records cannot be managed by users at this time. If you need to update your MX records, contact our support team.
How to change your domain's Name Servers
Open the DNS Management Console (see Opening the DNS Management Console above).
Click Manage Domain next to the domain name you want to manage.
Click Name Servers.
To use the default RescueGroups.org name servers select the Use default nameservers radio button.
To use custom name servers, enter the name servers in the text boxes for Nameserver 1, etc.
Click Change Nameservers.
Have a question about this topic?